An NTR is the first step for NASA to make the most of your technology
The NTR is the first step in an important process of tracking and identifying novel applications for NASA's new technologies. Your improvements, modifications, innovations, and discoveries are valuable assets for NASA and the nation. Ensuring that your work has a chance to make a difference in the world begins with the NTR.
NTR submission is simple and quick using e-NTR,especially when you have all of the needed information handy. After you have filled out the online NTR form, NASA's technology transfer personnel review your submission to ensure it is complete. Acceptance of the NTR is the final step of the submission process.
In cases where NASA owns the rights to an innovation, tech transfer personnel work closely with patent counsel to evaluate the NTR and make decisions regarding patenting, release of software, and whether/how to pursue technology transfer. In cases where rights to the technology are elected or requested by an organization outside of NASA, the owner may be responsible for IP protection and commercialization.
The NTR Process
Submission Process

What Happens Next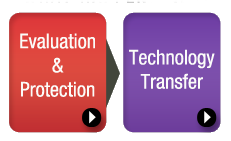 More about these processes is provided in this section, but if you have any questions, feel free to contact us — we're here to help.