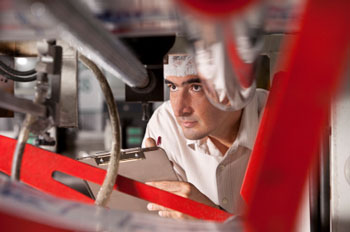 Technology transfer can take many different forms
Depending on the findings of the NTR evaluation, your technology may be selected to continue through the technology transfer process. Within technology transfer, there are many different paths. Your technology might be suitable for applications within industry, so the technology transfer personnel will seek potential licensees. Or your innovation might be a good candidate for collaborative R&D. Regardless of the type of activity pursued, NASA technology transfer processionals always work to ensure arrangements that are beneficial for NASA, the inventor, and the partner.
As with the R&D that leads up to the new technology, the road for the NTR can be a twisting route with several forks and unexpected turns. It may go quickly or it may take a long time, and you are always welcome to contact us to find out the status of your NTR.
The Technology Transfer Process
The steps taken as part of technology transfer vary depending on the type of technology and the market where it is most likely to be applied. However, there are several tools that technology transfer personnel commonly use to let others know about a technology that is available for license or an opportunity for partnership:
Prepare and distribute online and/or print materials to publicize your innovation

Contact companies or other organizations that may be interested in your innovation

Facilitate interactions with interested, qualified parties

If appropriate, arrange for your innovation to be presented at trade shows, conferences, and workshops
Throughout the technology transfer process, you will have the opportunity to review communications materials, such as articles in NASA Tech Briefs, brochures, online technology listings, etc. If you have any questions along the way, please do not hesitate to contact the tech transfer personnel at your center.
Types of Agreements
Technology transfer may be achieved through various agreement mechanisms, including licenses (most of which result in royalty revenue), partnership agreements, and software usage agreements.
NASA works hard to ensure that any agreements put in place protect NASA's – and your – interest in the technology while enabling partners to effectively bring a technology to market, ensure that the American public benefits from the R&D funded by their tax dollars. Available agreement types are outlined below.
Three types of license agreements are available:
Nonexclusive

Exclusive

Evaluation/Research
Space Act Agreement (SAA)

Cooperative Research and Development Agreement (CRADA)
Requests to use NASA software can be made by external parties or the software's developers. Before software can be released to these parties via the software release authority, an NTR must generally be submitted. The types of software release are summarized below.
General public release

Open source release

US and foreign release

General US release only

US government purpose release